Please Note
The presentation will be held in German.
Habsburg und seine nichterklärte Liebe zu China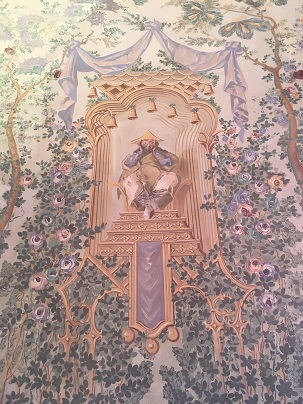 Habsburg und seine nichterklärte Liebe zu China
Gast: Lukas Nickel (Institut für Kunstgeschichte)
Zeit: 13. Dezember 2021, 18:30-20:00
Ort: Die Veranstaltung findet hybrid statt. Um online teilzunehmen melden Sie sich bitte für die Zoom-Veranstaltung an. Sofern die entsprechend geltenden Regeln zur Eindämmung der Pandemie es zulassen, können Sie dem Gespräch auch in der Kolingasse 14-16, Seminarraum 5 folgen. Bitte melden Sie sich vorab unter admin.thks@univie.ac.at an. Wir informieren rechtzeitig, ob eine Teilnahme vor Ort möglich sein wird.
Sofern möglich planen wir im Anschluss gemeinsam in ein Lokal zu gehen.
Gewebte Seide, feines Porzellan, geschnitzter Speckstein, farbige Lacke und andere chinesische Luxusgüter stießen seit dem Aufkommen von Handelsbeziehungen nach Ostasien auf großes Interesse in Österreich. Viele solche Objekte fanden ihren Weg in Wunderkammern und Sammlungen. Um 1700 jedoch begannen Fürstenhäuser, ganze Empfangsräume und Privatgemächer auf chinesische Art zu dekorieren. Kabinette mit chinesisch inspirierten Tapeten, Wandbespannungen, Malereien und Objekten etablierten sich als Alternative zu Barock- und Rokokoumgebungen und wurden zu einem allgegenwärtigen Element der aristokratischen und kirchlichen Repräsentation. Über 30 solcher chinoisen Räume sind bis heute allein in Österreich erhalten. Obwohl chinesische Dekorationen weite Verbreitung fanden und über das ganze 18. Jahrhundert eingesetzt wurden, finden sich kaum zeitgenössische Stimmen, die diese außerordentliche Wertschätzung und die Funktionen solcher Kabinette erklären. Im Rahmen des Projekts "China in Austria" untersucht Lukas Nickel das Phänomen der Chinoiserie in Österreich und stellt es in einen europäischen Kontext.
© Lukas Nickel